Regular Horse Sales
Thursday, October 4, 2018
Tack at 2:00, Horses at 4:00 for these sales
We conduct these Regular Horse Sales on the 1st Thursday of
February, April, May, August, October, November.
Horses are generally sold in the order they are received,
with riding horses often sold together near the start of the sale.
We accept horses the day before the sale, or up to sale time on sale day.
EID (Equine Information Document)
Horses sold at Regular Horse Sales must have the folloing document filled out regarding
and drugs which may have been given to the horse in the previous 180 days.
Although not mandatory, it is in the seller's interest to fill one out for each horse so the price is not discounted.
Click the image below for a form in PDF format to print and fill out to bring with you,
or fill one out when you get here.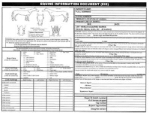 If you do not have Adobe to read PDF files, get it for free from